Website Design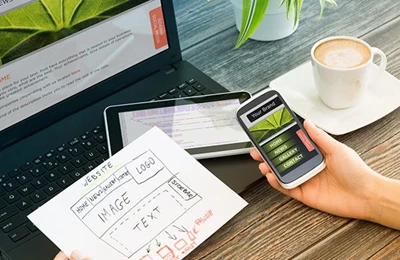 Benefit from creative design and the latest best practices to make the most of your opportunity.
Once little more than online versions of printed brochures, today's websites can deliver considerably more if put in the right hands. Namely, the capable hands of KKP's talented graphic designers and web programmers!
Why? Now more than ever, designing and developing a great website is key to the success of your company, organization or nonprofit.
Today's best web designs present key information on your products, service and brand, to be sure. But, they also solicit action and interaction with key audiences. Capture sales leads through enticing offers. Build databases of customers and prospects for future communications with online registration forms. Rank high on Google, Bing and other search engines through sound search engine optimization (SEO) practices. And, encourage repeat visits through regular infusions of fresh, interesting and relevant content.
The many advantages of a new or updated site
Through strategic web design and application of today's best web development practices, KKP-designed websites:
Load quickly: Not only will slow load times reflect poorly on your business, but it can also negatively impact sales.
Allow mobile access: Almost everyone today relies on smartphones and other mobile devices to access the internet.
Promote Search Engine Optimization: In addition to incorporating carefully selected keywords, our sites include on-page SEO tags and adhere to other best practices.
Enable tracking: Final designs can gauge important metrics like traffic, goals, and conversions to help us track performance.
Support email marketing: Your website's email capture forms can sync seamlessly with your email marketing system.
Integrate social media: Links to Facebook, Twitter and other sites let you leverage the power of social media in your digital marketing.
Adhere to security and privacy protocols. Security checks and other measures help protect the client and user data on your site.
Bottom line? Working closely with you to achieve your goals, KKP's experienced team create websites that are as attractive to you as they are to the audiences that click on their home pages!