5 Considerations for Your 2018 Marketing Plan
11/16/2017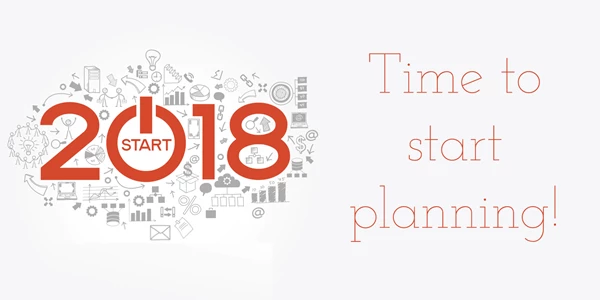 Full-time marketers are somewhere in the midst of budgeting and planning for 2018 programs and campaigns. When
marketing
is just one of several responsibilities you shoulder in your business or department, you may be just getting started or wondering what to do next that will make a difference. You're not alone.
In a recent survey by the Business Development Bank of Canada, over half of the small business owners surveyed find planning their greatest marketing challenge.
Here are five quick tips to consider that may help you turn it around:
1. Don't underestimate the value of a fleshed-out plan.
Though it takes time and effort, the benefits of having a written marketing plan prior to the first of the year is worth it. Among many advantages, it allows you to address your organization's big-picture goals, connect the dots between your marketing activities and coordinate your messaging so it's reaching the right audiences.
2. Know the difference between tactical and strategic planning.
Think of your plan as strategic (many parts working together to achieve a common goal) rather than tactical (single part achieving a single goal). However, strategy means nothing without execution, so striking the right balance to accomplish both is key. Try limiting the number of activities, and set hard deadlines for them. This allows you to focus on a few things you can truly accomplish and eliminates distractions that can prevent you from doing anything well.
3. Identify your marketing goals.
Before you begin, take a few moments to find out what it is you're working toward. Are you looking to grow your customer base? Retain your existing loyal customers and increase their spending? Grow your brand recognition locally? Generate leads? There are many goals, but if you can address the most pressing marketing need for your campaign, you'll be able to better focus your time and resources. Speaking of resources, it's smart to decide early on what your budget is going to be. It's generally accepted that small businesses designate 4 to 8 percent of their revenue toward marketing. Of course, the maturity of a business and its awareness in the marketplace will impact the marketing spend.
4. Prioritize customer retention over acquisition.
When it comes to allocating resources, customer retention is much less expensive than customer acquisition. Tip the budgetary scales here. Yet every organization experiences natural attrition and needs consistent, lead generation activities to actively look for new business opportunities.
5. Seek expert help if you need assistance.
Small business owners wear many hats, so don't be afraid to consult an expert if you don't have the time or know-how to implement your own marketing plan. In the long run, a marketing services provider can save you time to focus on your business and money by eliminating "random acts of marketing" that don't produce results; an expert will replace these plans with coordinated efforts that will have a much higher ROI.
Need assistance with your 2018 marketing planning? We're your nearby experts; we can help.
Fast. Local. Personal. For over 35 years KKP has been supplying a comprehensive range of high-quality print, design and sign services as well as marketing assistance to Canadian businesses. For expert assistance, attentive service and affordable prices, contact us today.
Back